How Recent Advancements in E-Commerce have been Impacting the Business Environment
By Aswin T. Utomo, VP of Engineering and Chief of Staff, Technology, Tokopedia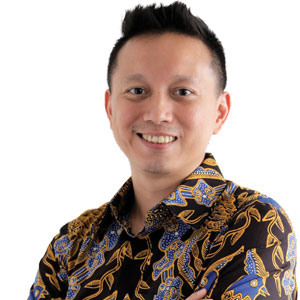 Aswin T. Utomo, VP of Engineering and Chief of Staff, Technology, Tokopedia
The Challenges of Indonesia
As the largest archipelagic country in the world, Indonesia with 17,000 islands stretching over 5,000 km, it is very difficult to build infrastructure that is evenly distributed throughout the country. This leads to unnecessary disparity and inequality of opportunity: big cities being urbanized, while small cities remain under-developed. Most local merchants who want to expand their sales often leave their hometown to find better opportunities from the bigger cities.
E-Commerce to bring light and parity to villagers
With the introduction of E-Commerce through the soaring growth of the internet and phone penetration in Indonesia, many people participate in E-Commerce through these mediums and the whole business environment has been adapting and adjusting in order to keep up. This includes us, Tokopedia, a technology company in Indonesia. With more Indonesians participating in the growth of digital commerce, Tokopedia also has to develop towards providing positive and seamless experiences to all parties, living by our DNA in focusing on the consumers. Our 4 main business areas that are impacted by E-Commerce expansion greatly include: 1.) Retail 2.) FinTech 3.) Logistic and 4.) Job creation.
Retail:
E-Commerce has changed the way people do business and buy things, people get benefits from selling and buying online. Looking from the merchants perspective, having E-Commerce means that merchants can start and grow their stores wherever they are. The merchants do not have to move away from hometown as long as the internet can reach them. Like electricity now, the Internet is becoming part of the necessity in the future. The merchants can find various wholesale suppliers online that can provide cheaper products in batch. Tokopedia's way in onboarding more offline stores for this change in retail transaction is through "Mitra Tokopedia". Mitra Tokopedia is an app where offline store owners can utilize the benefits of selling online including finding wholesalers, using online payment, setting competitive prices, checking inventories online or even getting better data acquisition of clients; all the while keeping the offline shops going.
E-Commerce made us realized that we do not have to give up an offline store in order to compete online, both can co-exist in parallel as two different channels to sell.

FinTech: FinTech is one of the enablers of digital commerce. It allows us to reach the unbanked population, the people who do not have access to physical banks and financial services, through mobile phone. This records upto 51% of the total population. To support the fast-paced E-Commerce, FinTech products are always developed to be a step ahead so people have accessed to them whenever they use the E-Commerce platform. This includes digital payment, merchant loans, affordable investments, data-driven credit scoring for lending, and virtual credit cards.

Logistic: According to the McKinsey report on the digital archipelago, Indonesia is expected to have $20 billion worth of E-Commerce transaction and $1.6 billion parcel shipment by 2020. With this number in mind, it comes with the opportunities for sufficient logistics that can stretch across Indonesia's 5,000 km. of islands. Tokopedia, too, has to be ready for this as our customers cover 97% of districts in Indonesia. We tackled this challenge through partnering with ride-hailing companies in Indonesia to deliver our products, and launching "TokoCabang". It is a service where merchants can store their products in batch at our warehouses across the country and customers can order and get the products delivered to them cheaper and faster.

Job-Creation: At Tokopedia, we have 5.9 million merchants selling in our platform, 70% of which are first time entrepreneurs. E-Commerce has impacted employment in the sense that it allows more jobs to be created in the SMEs. This can be in the form of rising entrepreneurs, or new jobs in Tech-related fields. Because selling online does not require much expense, it encourages more people to start selling as either part-time or full-time. While Tech companies are demanding more experts in the field to grow the companies, the rise in E-Commerce would go hand in hand with the rise of employment.

The successful campaign that marks a new level of Indonesian E-Commerce

During the holy month of Ramadan, Tokopedia hosted our biggest shopping tradition called 'Semarak Ramadan Ekstra'. It is an online event that gathers the widest range of products, the largest network of sellers and the highest number of users together. As a technology company, we made the experience in shopping online a little different through having interactive shopping. We hosted an offline event with Running Man, a korean superstar, that was lived in 4 TV channels and at our own Tokopedia Play app. During the Live period, customers can participate in different activities through Tokopedia Play such as buying clothes or cracking the lucky eggs to get awards real-time with the MC on stage.

The result was a phenomenon: more than 3 million people participated during the TV event and 6,000 products were sold every minute on the day. We are excited to mark a new record to this tradition with Gross Merchandize Value (GMV) -a measure for the dollar value of total transaction- during the holy month of US$ 1.3 billion, equivalent to more than Rp.18.5 trillion. The result goes to show how a new level of E-Commerce has been reached by all the Indonesians.

Democratizing commerce through technology

There are endless lists of how the growth of E-Commerce would impact the business environment, both good and bad. However, as a digital company, our job is to protect all the bad things from happening to our ecosystem and have everyone really enjoy the full benefits of E-Commerce.